Mary K. Chapman Giraffe Experience Dinner
Have dinner with Tulsa's tallest residents! This dinner for 20 guests will be held on the Mary K. Chapman Giraffe Experience deck. A buffet dinner with a three (3) hour hosted bar is included. The Giraffe's won't be left out, guests will have the opportunity to see the Giraffe's evening feeding up close. This evening will be fun for young and old alike! FMV $3,500
Special thanks to our friends at Nabholz for sponsoring this wondering experience.
Living Kitchen Dinner for 16!
Enjoy an enchanting evening of fine dinning in a one of a kind atmosphere. Living Kitchen Farm and Dairy is located in Depew, Oklahoma, on Historic Route 66. Woven into 400 beautiful acres on the Oakley family farm, the Living Kitchen raises and produces certified organic heirloom vegetables, Nubian milk goats and pastured laying hens, along with a few pet sheep and llamas. Our single purpose is the continual journey to raise, grow and forage the perfect meal.
Living Kitchen Farm Table Dinners are 9-course meals served on the screened-in back porch of a rustic cabin on our farm in Depew, OK, a community experience shared around a common table. Guests are invited to join us for a tour of the farm before dinner, then enjoy a dinner made using ingredients grown or produced on our farm or from other local farms.
The wonderful evening includes dinner and wine for 16 guests. Don't want to drive, no problem...transportation is included from VIPLimo.
Click here for More information on Living Kitchen Farm & Dairy.
FMV $4500
CASA SUENOS...HOUSE OF DREAMS
Nestled on a cliff only meters above the ocean spray of the Pacific, you will find ten thousand square feet of marble splendor melded into Etruscan Architecture….five unbelievable, fully air conditioned, sea-facing, private Master Suites….two swimming pools with cooling waterfalls….three sunning decks and a fourth with sun chaises partially submerged in the cooling pool….a shaded palapa bar….outside living and dining areas with sunset views that are simply "Too Awesome For Words". Home is located in Manzanilla Mexico FMV $13,000-$18,000
Click here for more information on Casa Suenos.
WAIT - JUST ADDED!
Thanks to our friends at FINE Airport Parking this package now includes a 7 day valet parking package with full detail.
A Collection of Fine Wines
The opportunity of a wine lover's lifetime! the winner of this auction item will receive a collection of wines donated from Tulsa's finest private cellars. A detailed list of the wines included with information of each bottle will be provided by the Sommelier on staff at Beyond the Label. Watch for more details here!
Have you ever wanted to bend the Mayor's ear? Have you ever wondered about the beautiful modern home in Brookside? This auction item is just for you! A luxury dinner for 8 guests at The Brooksider, hosted by Mayor & Susan Bynum and cooked by the Blank Canvas 2017 winning Chef. This beautiful custom home is truly an architectural gem from the roof top deck to the slick white style. Limitations apply on Date.
Diamonds, Diamonds, Diamonds!
Thirteen (yes, lucky 13) loose diamonds, 2 carats total weight and $1000 credit for you to design a custom piece of jewelry.
Necklace, Earrings, Bracelet?
Andy and the Spexton team will help you get just the look you want.
Sponsored by Spexton and Barbara & Cliff Mefford
You and a guest get to spend the day with Chef Justin Thompson! Chef Justin will introduce you to a world of taste!
Included is dinner for 2 every month for a year at a JTR group restaurant.
Limitations apply
Sponsored by Chef Justin Thompson and the JTR Group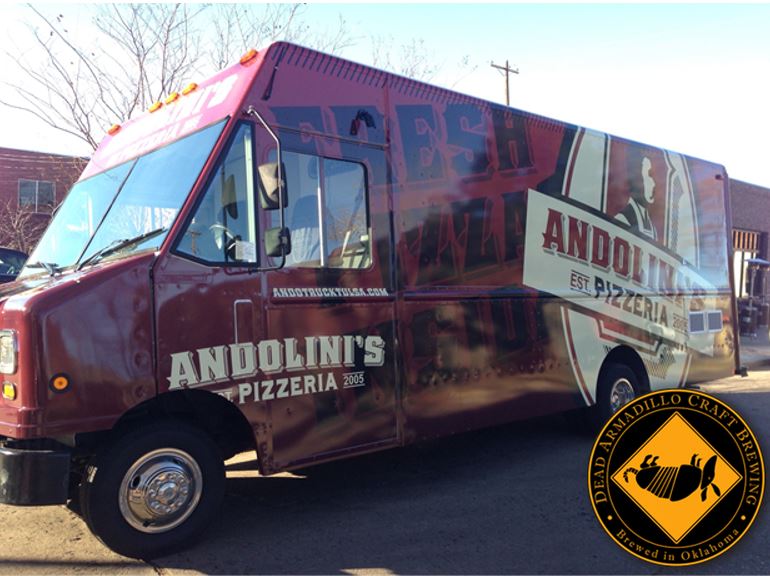 The ultimate party!
On location food truck pizza party for 30 people — serving our award-winning food truck favorites: pepperoni pizza, sausage pizza, cheese pizza, all by the slice.*
Truck will be fully staffed with Andolini's crew members.
AND
Beer provided by Dead Armadillo brewing Company!
No weekends, no holidays and subject to black out events (Mayest, for example). 2 hour maximum length of service (truck will be on site for maximum of two hours)Event location must be within 20 miles of 1552 E. 15th Street, Tulsa, OK
*other drinks and gratuity not included